What makes a good veteran and military-friendly employer? Is it their employer brand or recruitment marketing strategy? Maybe their benefits or their employee resources? The answer—YES. All of these aspects and more go into creating a top-notch military and veteran experience (learn how to be a military-friendly employer here), and there are a number of stand-out employers that have gotten this right. We applaud the exceptional work these companies are doing to create an inclusive, military-friendly experience.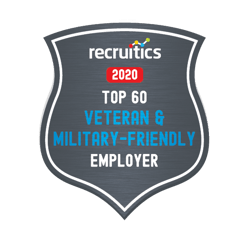 How did we select these remarkable employers?
Our team of expert recruitment marketers analyzed and aggregated the company data from the DOL 2018 Award Winners, Military Friendly Award Winners, Best of Vets list and Indeed's 2019 Top-Rated Workplaces for Veterans list along with employer information from Glassdoor to determine our list. Factors included (but were not limited to) number of awards and recognitions related to veteran and military recruitment, number of employees and number of open jobs.
Without further adieu, here's our list of top 60 veteran & military-friendly employers as we head into 2020, listed in alphabetical order:
These employers are making great strides to reduce veteran unemployment rates and are succeeding in hiring phenomenal military employees with great skill sets (discover more reasons why you should recruit veterans here).
[TWEET THIS: Check out this list of Top 60 Veteran & #MilitaryFriendlyEmployers as we head into 2020: https://ctt.ec/b0837+ via @Recruitics #VeteranRecruiting]
Why do we admire these employers? Learn more about the noteworthy work that some of these brands are doing in regards to their recruitment marketing and employer branding initiatives to support veteran recruiting here.